Ashley Davis
Copper Pot Seddon
SATURDAY 9:30am- 10:10am
Truffle Käsespätzle
Ashley Davis grew up in Melbourne's west before embarking on a journey which took him to first to Sydney, and then on to Europe for eight years where he travelled extensively. Gaining a Masters in Culinary Arts from the University of Brighton, Ashley also worked in some of London's top Michelin starred restaurants.
Copper Pot Seddon is his realised vision to bring the experience of neighbourhood bodegas, trattorias and bistros of Europe back home to Melbourne's inner west. Ashley cooks with passion, simplicity and a love for truly seasonal produce- his mixed European cuisine tells a story, connected to memories of places and people.
---
Michael Cole
Georgie Bass Cafe & Cookery, Flinders
SATURDAY 10:30am- 11:10am
Raw Beef, Confit Yolk, Parsnip Crisps, Milk, Wilted Leaves, Truffle

Michael was recently named the 2017 Professional Chef of the Year, and in a remarkable double act was also selected to be the Australian candidate for the Bocuse d'Or World Cuisine Contest.
Michael's creativity and inspiration has been collected from the tapestry of experiences his travels have provided and at establishments such as Qualia (Hamilton Island), Le Gourmet (Melbourne), Villa
Saint Exuberay (Nice, France), Echo Hotel (Hakuba, Japan) and Brae (Birregurra, Vic).
His love of local produce, no matter what country he is in, extends his curiosity into the farming aspect and the ecological impact of food production. Michael has a passion that lies deep within and a philosophy that food can influence the way we act and how we feel.

As Head Chef at Georgie Bass Café & Cookery, Michael and his team serve up innovative meals using seasonal produce, and pass on some of their amazing skills in the Georgie Bass Cookery.
Truffle Melbourne has teamed up with Flinders Hotel, Georgie Bass Cafe & Cookery and Red Hill Truffles to present the Truffle Lovers Weekend, a weekend of indulgence on Saturday 24 and Sunday 25 June, and Saturday 29 and Sunday 30 July.
---
Giorgio Linguanti
That's Amore Cheese
SATURDAY 11:30am- 12:10pm
Live Mozzarella Making

In 2004 Giorgio Linguanti migrated to Melbourne and got a job in a cheese factory, sparking an interest and passion for making cheese. In only four years, this young Sicilian went from not speaking a word of English to opening his own cheese company.
He began with just one product- Bocconcini Leaf, which was a huge hit with the Italian restaurants. Before long, he was also making Burrata and Smoked Scarmorza with chef's admiring his artisan skills in handmade cheeses which he continues to make fresh, every day.
Giorgio is considered the 'Maestro of Mozzarella' and will perform a live demonstration of mozzarella making at the Truffle Melbourne Festival. Thanks to his talent and his skills, Australia's best maker of Italian cheese, will rapt you with making round balls of mozzarella from scratch and serve them warm. It won't be a demonstration session, it will be an experience.

That's Amore Cheese are serving up ready-to-eat delights and truffled cheeses to take home and savour, all weekend at the Truffle Melbourne Festival
---
Paul Tyas
Grosvenor Hotel, St Kilda
SATURDAY 12:30am- 1:10pm
Angry Pierre Burger
Paul Tyas has taken his cues from some of the most esteemed chefs in the industry and his resume reflects this, boasting an impressive array of experience from restaurants both in Australia and around the globe.
Taking his first step into the culinary world at the age of 13, working at Lindenderry Winery in Red Hill, Paul continued his cooking apprenticeship at Walters Wine Bar, Beaumaris Pavilion, The Point Albert Park and Mentone Hotel. He was also part of the team who opened Arintji alongside chefs Daniel Wilson and Jacques Reymond before heading to the U.K.

Paul's love of French cooking inevitably took him to Chalet Rosset in France where he worked in classic French bistros, expanding his knowledge of French cuisine. On his return to London Paul accepted his first sous chef position at Bleeding Heart, working under Peter Reffel, head chef for Marco Pierre White for over a decade.
Returning to Australian shores, Paul took on a Sous chef position working under Scott Pickett at The Point Albert Park. He grew a deep appreciation for cooking with premium meat, which ignited his passion for incorporating high quality meat into his dishes that continues today as Head Chef at the Grosvenor Hotel.
Grosvenor Hotel's St Kilda Burger Bar is serving the Angry Pierre Burger alongside other delectable truffle tastes all weekend at the Truffle Melbourne Festival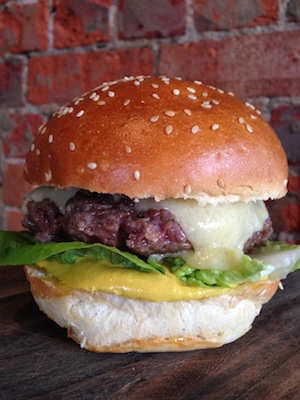 ---
James Mele
The Meat Room, Kilmore East
SUNDAY 9:30am- 10:10am
How-to-make Truffled Salami
James is a 5th generation artisan butcher who is passionate about Italian food and working with local producers of pork, lamb and beef. He loves to travel and meet farmers, prodcuers and fellow foodies and in 2016, he received an ISS Institute Fellowship, to travel to Italy to expand his knowledge of salami and rare breed pigs.
Located in Kilmore East, James shares his passion, and knowledge of salami through regular sausage making classes- teaching the techniques to produce fresh sausages and salami at home.
---
Damian Sandercock
Piper Street Food Co, Kyneton
SUNDAY 10:30am- 11:10am
Truffle & Caramelised Onion Quiche | Seasonal Salad with Truffle Vinaigrette | Truffled Beurre de Gascogne – seasoned lard butter
Damian's passion for charcuterie was ignited by a trip to France in 1999, stumbling across a can of Rillettes du Canard in a small shop in the Latin Quarter and pairing it with a bottle of new season Beaujolais and fresh bread. It was simple and delicious and it was the beginning of a little plan.
Having cooked in fine dining restaurants in Adelaide, UK and Melbourne before starting a family and moving to Central Victoria, all of Piper Street Food Co's award-winning products are hand crafted and based on traditional methods and recipes. Because of the simplicity of this ancient craft, the quality of the ingredients is everything. Each of the ingredients has its own provenance whether its the local Redesdale rabbits, free range eggs from Hanging Rock Hens or salt from Pink Lake.

Sharing his knowledge and passion for charcuterie is important to Damian and he does this through demonstrations at regional food events and also runs a series of popular cooking classes in Kyneton.

The Piper Street Food Co are exhibiting again at this year's Truffle Melbourne Festival, showcasing a range of their charcuterie and assorted truffled treats to take-home.
---
Philippe Mouchel
Philippe Restaurant, Melbourne
SUNDAY 11:30am- 12:10pm
Oeuf a la Neige with Black Truffle and Truffle Cream

Philippe Mouchel has won accolades, awards, and the respect and affection of everyone who has worked with him, or eaten at any of his restaurants.
Born in Normandy, he trained with the great Paul Bocuse, the only chef in France to have been awarded three Michelin stars for more than 40 consecutive years. He was trusted to work at the first Bocuse restaurant in Japan, where he learnt to interpret formal French cooking for Japanese tastes and learnt about Japanese food and flavours.
Philippe came to Melbourne to open the Paul Bocuse restaurant, and was then chef at a number of restaurants in Melbourne and Sydney before opening the acclaimed Brasserie Philippe Mouchel at Crown. His training is French. His experience is of many countries and many cuisines. And he is just as at home with traditional as contemporary cooking.
His latest venture in Melbourne's CBD is a restaurant and wine bar eponymously titled, Philippe. It showcases traditional yet innovative French cooking that employs high quality seasonal produce and serves refined dishes.

Philippe's Annual Truffle Dinner takes place once again on Wednesday 21 June, as part of Truffle Melbourne's celebration of the black winter truffle season.
---
James McLennan
Bomba, Melbourne
SUNDAY 12:30pm- 1:10pm
Twice cooked celeriac with manchego cream, crispy black cabbage and pickled mushrooms. And lots of truffle.
James worked in restaurants in both London and Manchester before moving to Melbourne in 2011 where he held roles at The Point and Taxi. In 2015 James accepted the role of head-chef job at Bomba- Melbourne's wildly popular take on a Spanish workers bar. His passion for food is evident in the well executed and accessible Spanish tapas created from local, fresh, and seasonal produce.
Truffle Melbourne is thrilled to join Bomba for the ultimate four-course eight-dish lunch-time truffle feastthis Saturday 15 and Sunday 16 July.
---
Fabrizio Occhiena
Sagra Restaurant, Malvern
SUNDAY 1:30pm- 2:10pm
Handmade tagliolini with shaved black truffle and Parmigiano Reggiano
Duck liver pate with black truffle, prosciutto and fig vincotto
Born in Italy, Fabrizio's drive to succeed and genuine passion for food and the kitchen life has seen him rise through the ranks to become a talented, promising young chef.
From working in Spain as a kitchen hand, Fabrizio moved to Malta to continue his culinary journey where he worked as both a chef and also as a waiter to get a full understanding of what it is to be a true hospitality professional. He has also worked in Indonesia, Berlin, New Zealand, and now calls Melbourne home.
Fabrizio believes that knowing all aspects of the restaurant allows him to have a greater understanding of what diners really want and how to deliver the perfect meal. His love for cooking stems from his desire to constantly learn new skills and to see pleasure from patrons in the dishes that he creates.
Truffle Melbourne is delighted to partner with Sagra to present the Black on Black dinner, Thursday 29 June, in celebration of the month long Sagra del Tartufo.
---
Andy Harmer
The Point, Albert Park
SUNDAY 2:30pm- 3:10pm
Comte and Truffle soufflé

Andy has worked at various premium restaurants around the world- including the two Michelin star Les Crayeres in France and at D.O.M with Brazilian chef Alex Atala, whose restaurant is rated the fourth best restaurant in the world. In Melbourne he was Executive Chef at Vue de Monde, working alongside Shannon Bennett for seven years before taking on the role of head chef at Virginia Plain.
The Point is now Andy's home; his influences are ever changing, diverse and innovative- invoking happy memories by celebrating the seasonality of local produce and adding luxurious ingredients.